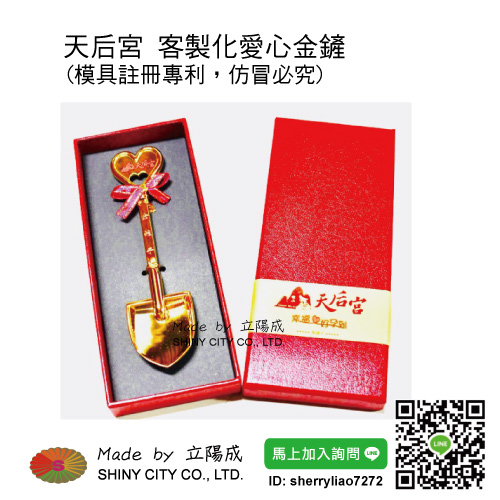 Welcome all major temples, government agencies, company lines to start the construction of gold shovel
Daisuke undertakes the big gold shovel, the middle gold shovel, the small gold shovel
The golden shovel takes its word homophonic "tight birth",
Folk customs, put the used gold shovel under the bed under the bed.
I can make a child smoothly, so I made a special shovel.
According to legend, the golden shovel can have a son if it faces up.
If the back is facing up, it is a daughter.
Extracted from news reports
The "Golden Shovel" that started to spread the ground has a special effect on giving birth to a male child, and it also makes the Golden Shovel particularly popular. When the representatives of the public opinion went to participate in the ground-breaking ceremony, many voters also passed through the pipeline, hoping that the golden shovel after the ribbon-cutting was able to be brought back. Because there are quite a lot of voters who requested the gold shovel, it really made the representatives of the public opinion somewhat troubled.
The Hehe Building of Jingguo Road and Zhongzheng Road in downtown Hsinchu City is the first public market BOT case in Xu Mingcai, the mayor of Hsinchu. The company spent 650 million yuan to build a basement and a seven-story building on the ground floor. In addition to the mayor Xu Mingcai and the deputy mayor, You Jianhua, a number of city councilors attended the ceremony to participate in the ribbon-cutting ceremony. The scene was quite lively.
However, the golden shovel of the groundbreaking ceremony is the most sought-after item after the ceremony! Including the city councilor Zeng Zicheng and Xu Xiurui, they all received requests from the pile feet and voters, hoping to bring the gold shovel back after the soil was moved. The city councilor once said that the gold shovel that had requested the grounding of the organizer before the ceremony could be taken away. The newly-married couples in the ancient law can just conceive and have children by placing the golden shovel under the bed. The Honourable HUI Xiu-rui said that because the homophony of the "shovel" is the same as that of the son who gave birth, and the couple who are infertile, almost all the methods have been tried or not, and finally they will try to put the "golden shovel" of the ground under the bed. I hope I can get it all at once. According to legend, the golden shovel can have a son if it faces up, and if it is facing up, it is a daughter. Of course, if you want to strengthen the effect, the golden shovel will also receive the worship of the goddess of the birth of the goddess. As for the spirit, it is not known.